Take advantage of all the services during your vacation in the center of Ialyssos.
Our 3 windsurfing centers provide you with the latest equipment on the market.
We offer you a free shuttle service to our kitesurf center in Kremasti, which is only a few minutes from Ialyssos.
Wing-Surf & Wind-Foil ready center!
Test and enjoy the new generation of flying over the water! 
The gear from Duotone and Fanatic as Gaastra and Tabou are ready for the rental.
With more than 30 years of experience in the bay of Ialyssos, the Procenter will give you the magic of Holidays.
Our centers are located right on the water with a constant side shore wind giving access to every level.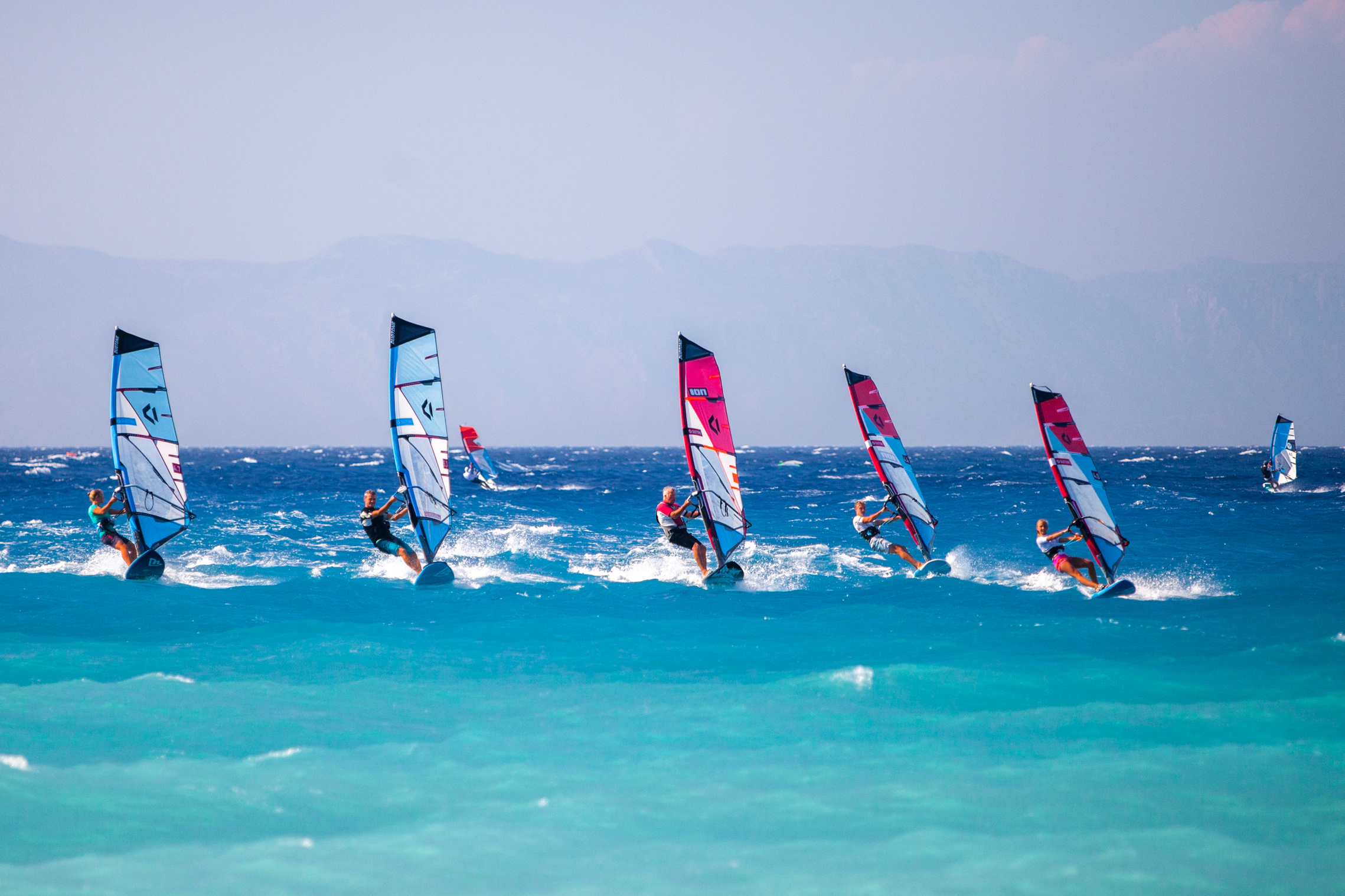 Discover our facilitys to give you
the best of your stay!
Find our 3 windsurfing centers in the hearth of Ialyssos, a pleasant aera where you will find all the comfort you need with with a seaside promenade overlooking the sunset as well as the shops, terrasses, Greek taverna's and more.
Two of the centers are situate directly in the front of the hotel Blue Horizon and the third one is less then five minute walk on the beach.
In this third center the wind is less powerful in the bay, this provides attractive and reassuring conditions to offer you your first steps in the world of windsurfing, or to enjoy a quieter place.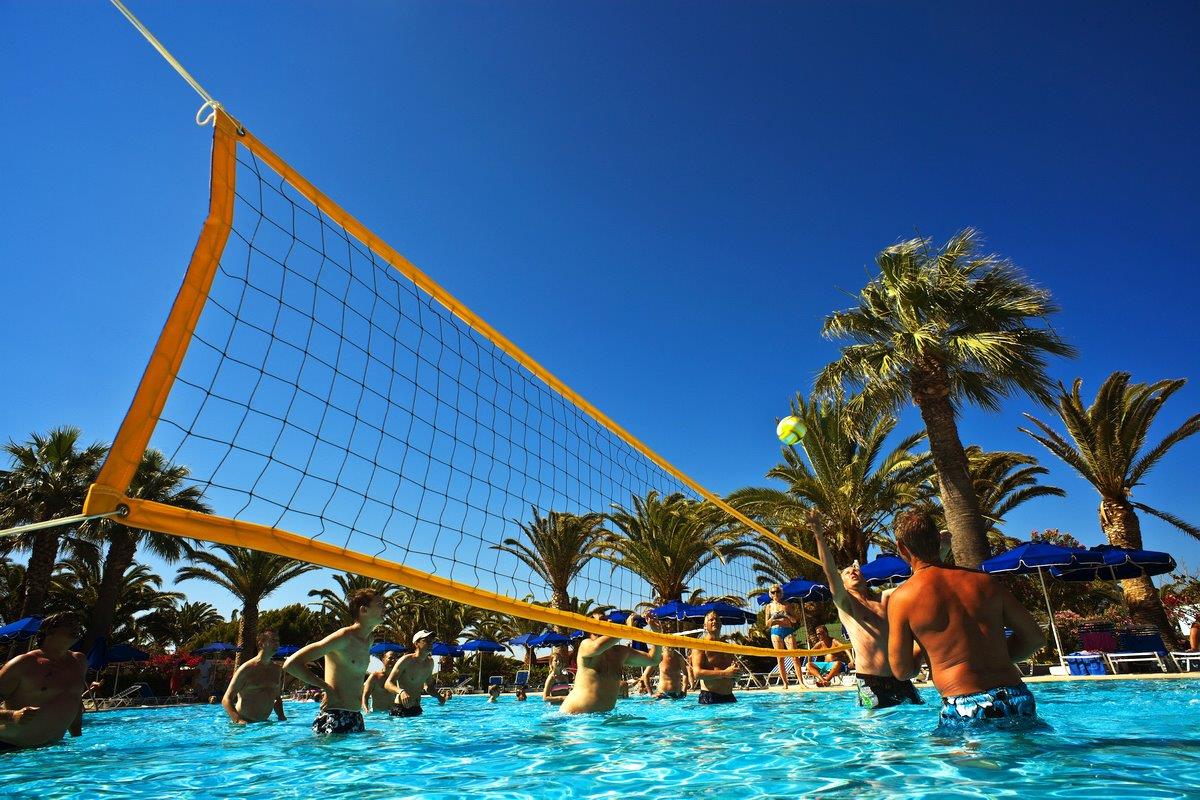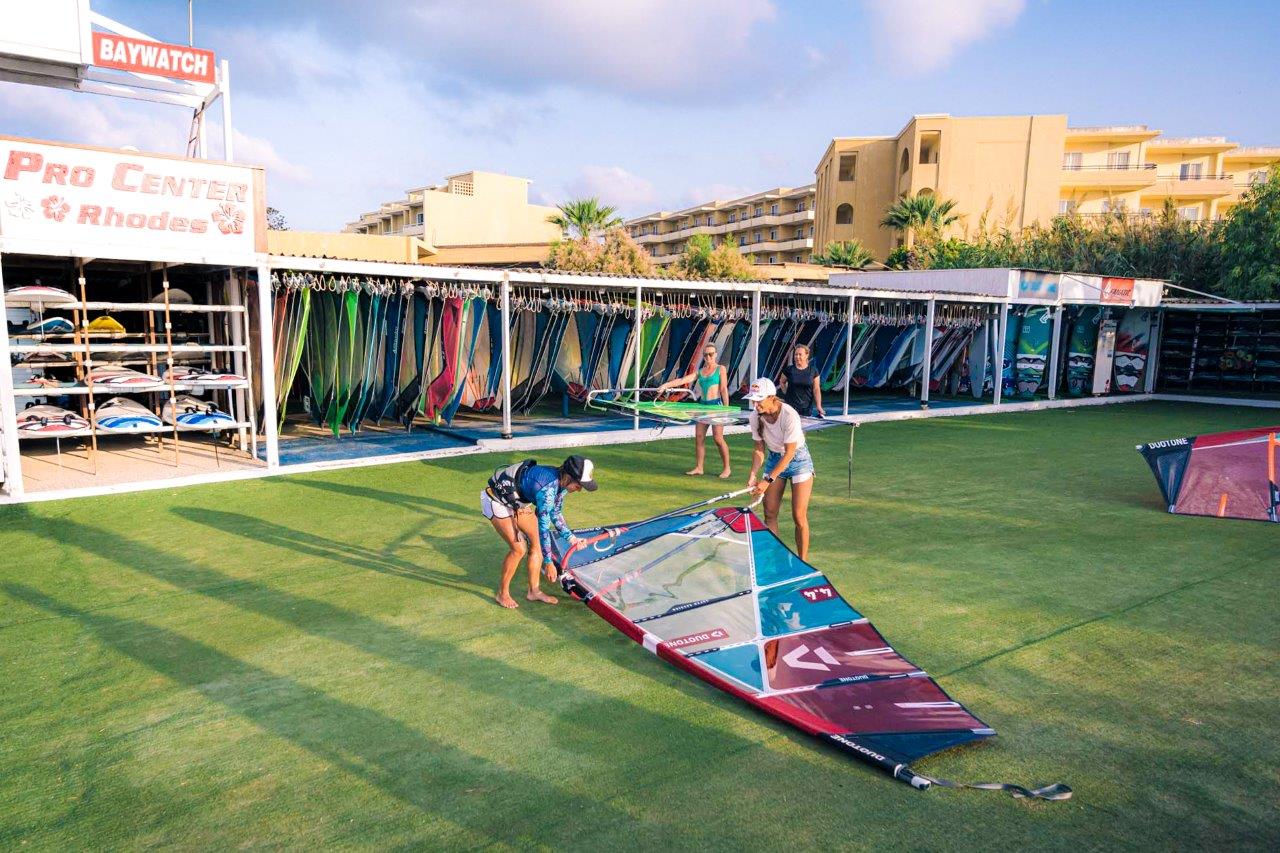 Our Priority is the services to our guest, our team is formated to give you the right information on the spot, to help you to enjoy our amazing sport and to give you the oportunity to progress during your stay.
Choosing the right equipment always been a challenge, have a chat with the team to help you in your decision.
on your arrival at the reception of one of our centers you will be warmly received, a little explanation of the place and you will tighten your feet in the straps!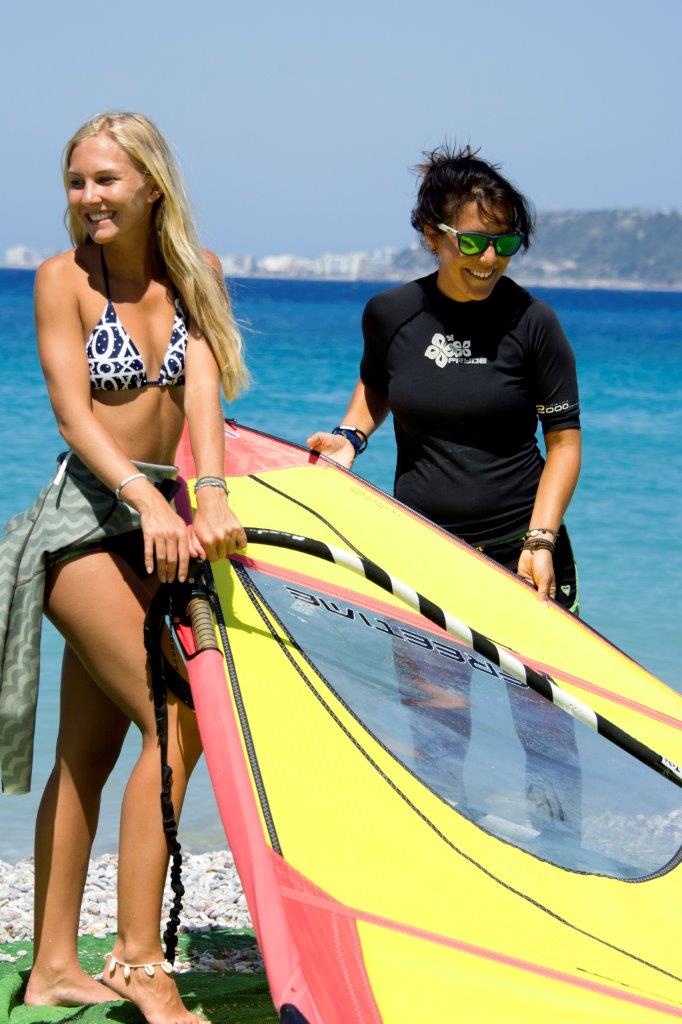 For your security we have our Baywatch towers and 2 power boat on dutty at the centers ready to come to help you.
The condition in the bay of Ialyssos with a light on-shore courant and a side-shore wind giving you a safe session from beginners to advance surfer.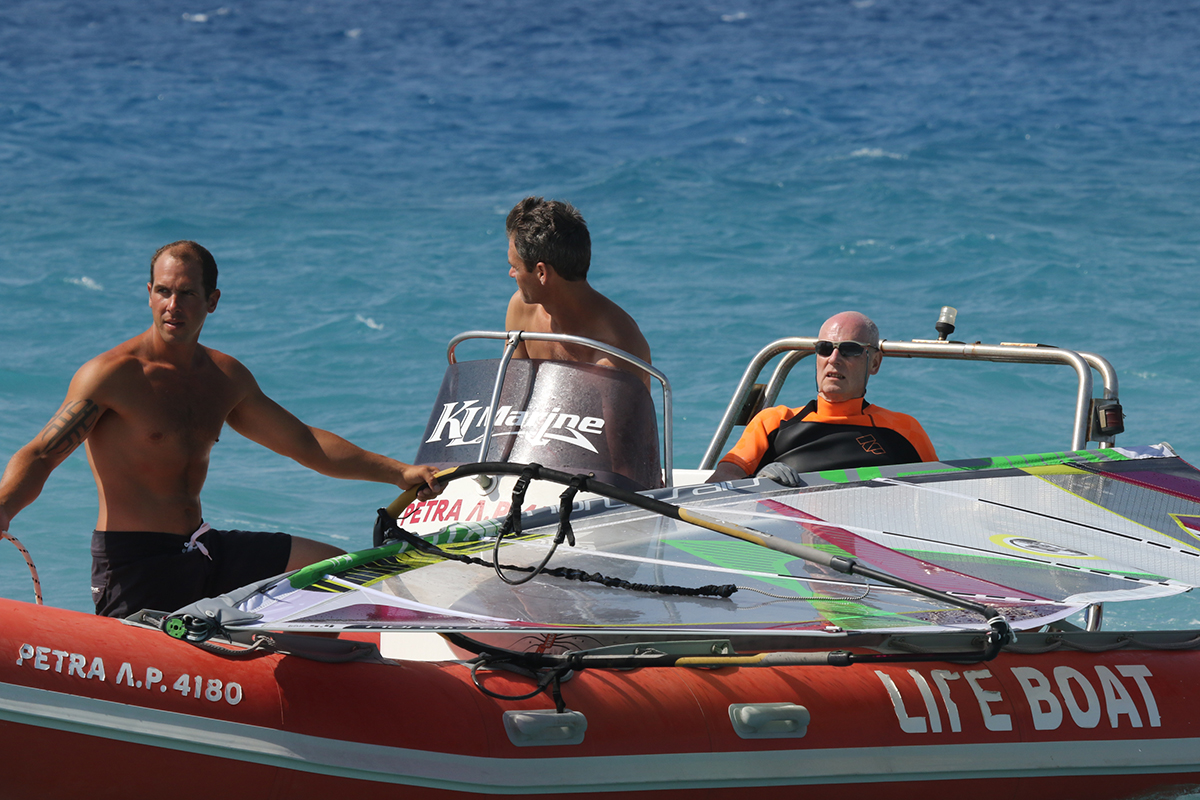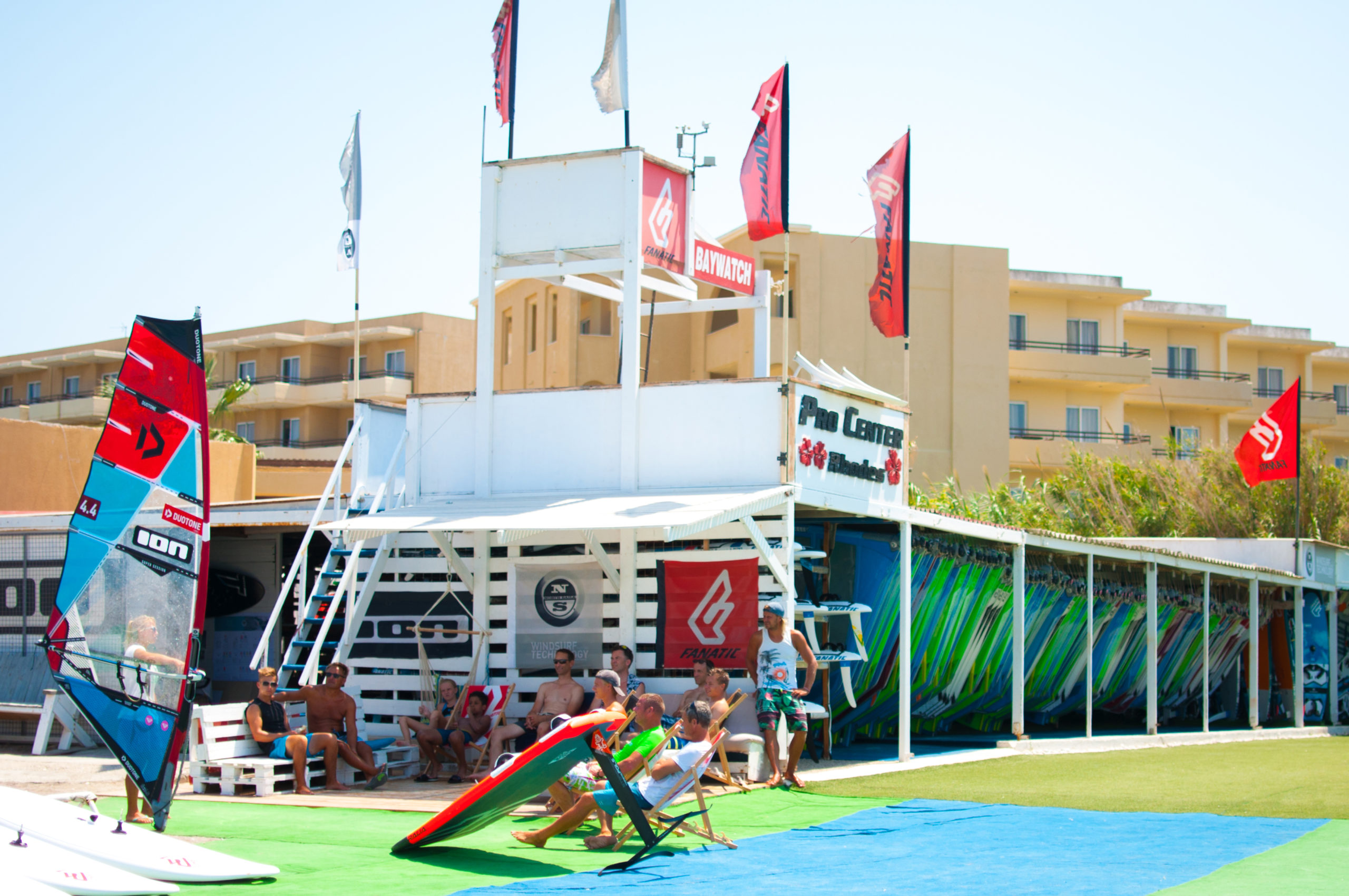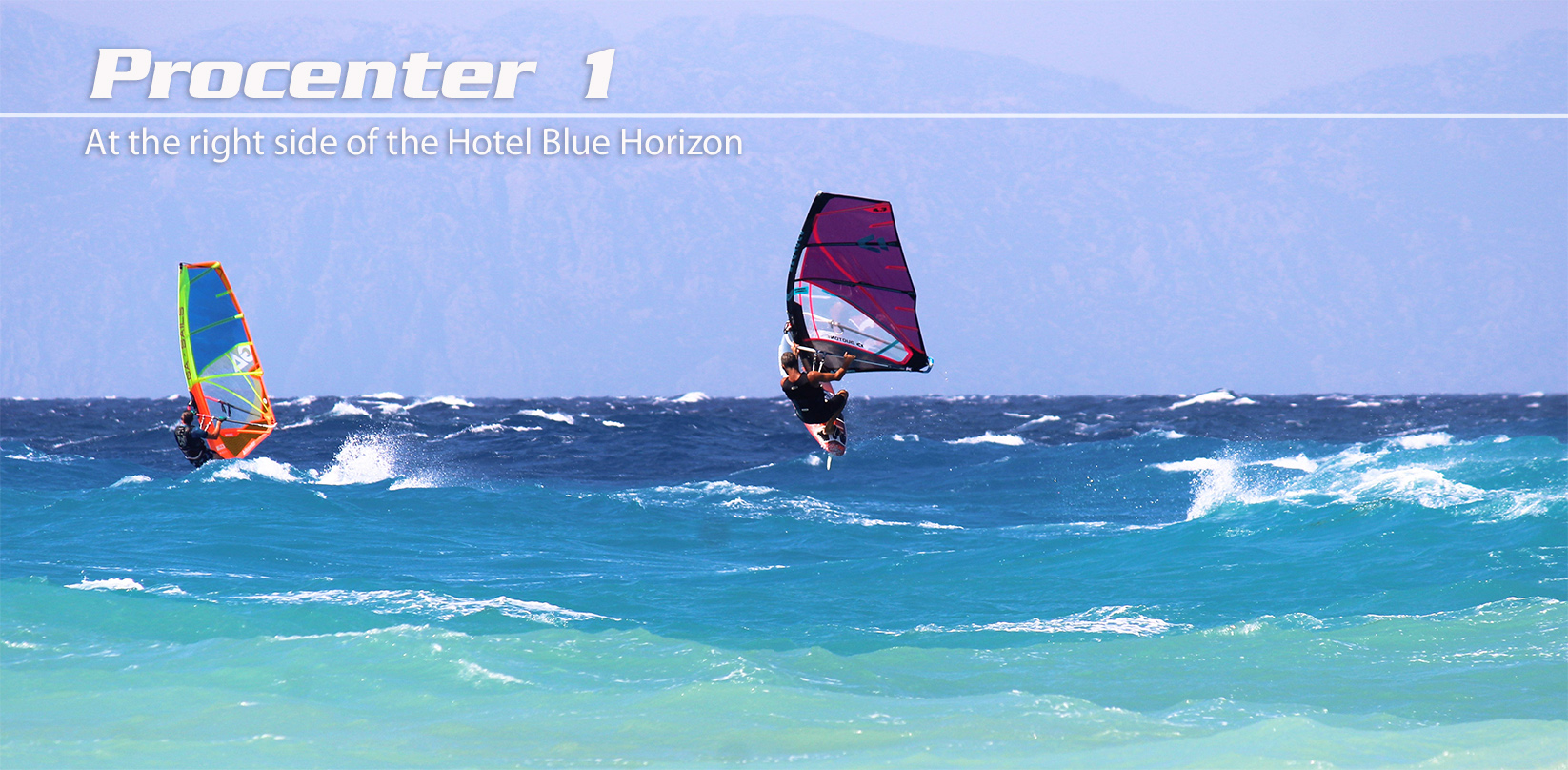 Our base provides a easy access to the sea right on the water with a side shore constant wind blowing from the left.
At this center you will find more than 170 recent boards from Fanatic and Tabou associated with more than 200 sails from Duotone of the year rigged with masts over 90% of carbon are ready to be used. A top equipment always renew.
Our team is always eager to assist you in finding the right gear, assist you during the rigging and perhaps to help you progressing.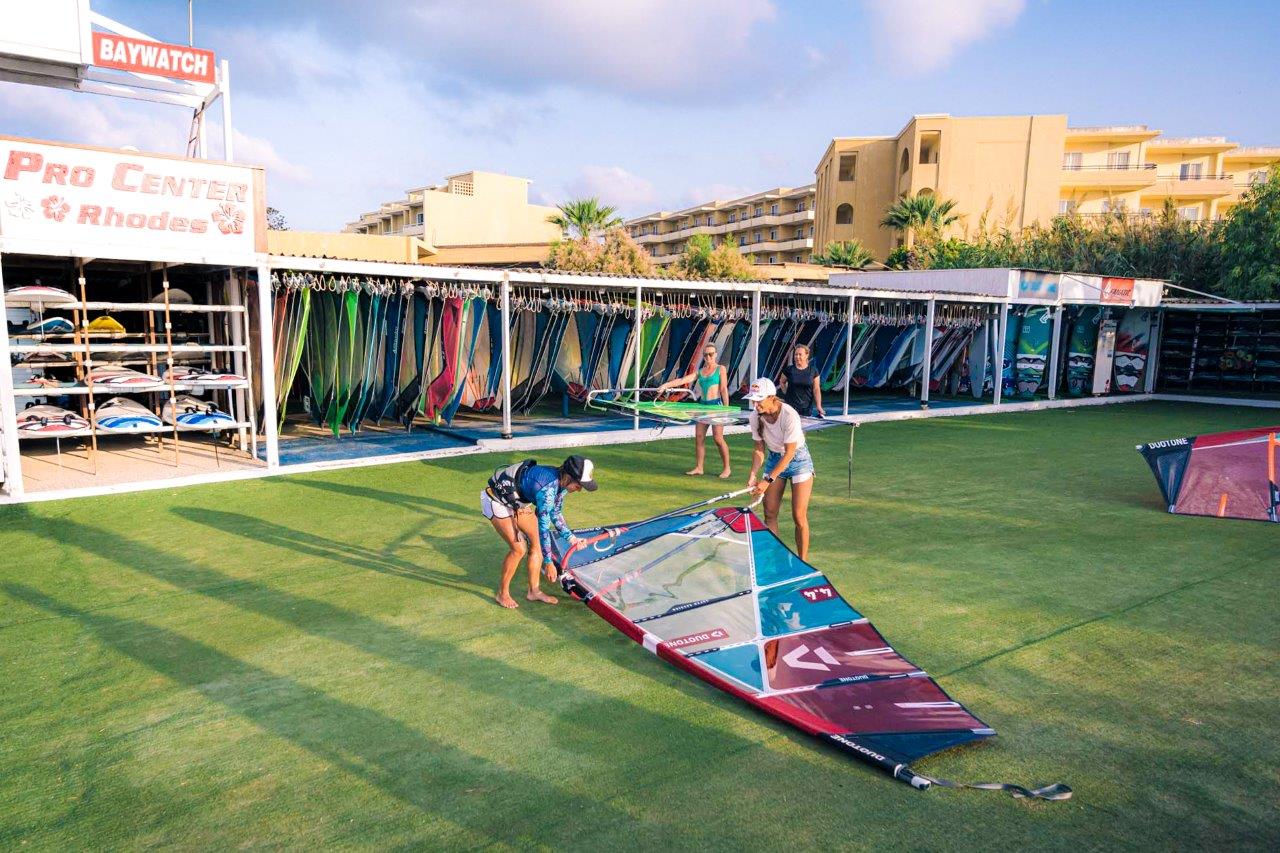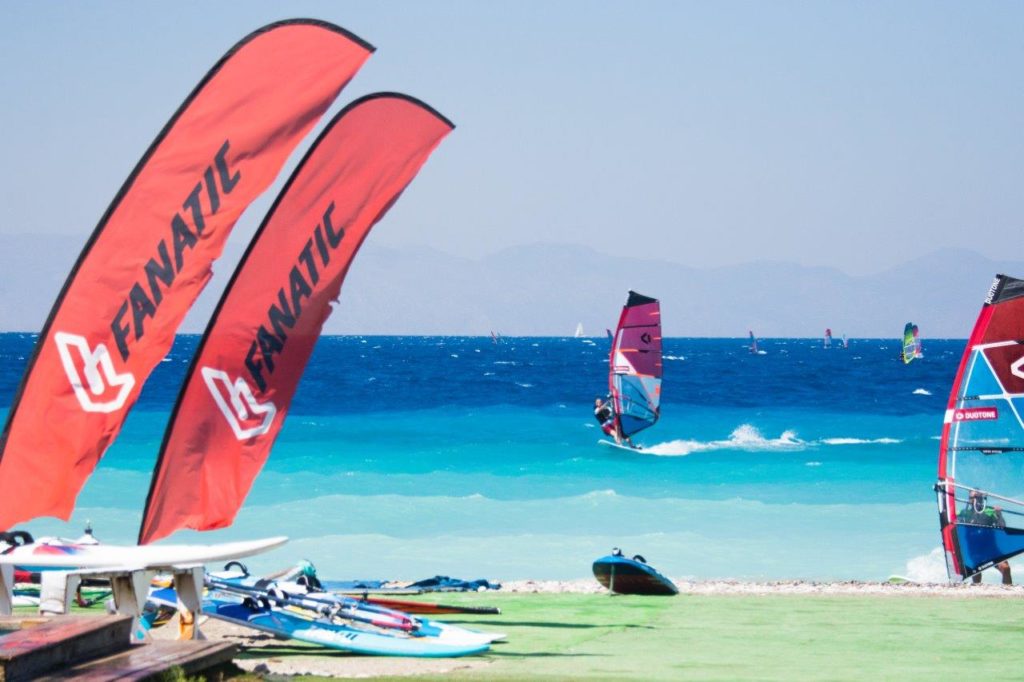 If you prefer to bring your own equipment to the center, we can offer you our SSP package, which covers storage, rescue, services and transport from / to the airport.
Tired from windsurfing or simply in a relaxed mood? A fresh water shower, a beach volley field, sun beds in a garden of hundred palm trees and the beautiful beach complete the center's amenities.

The ProCenter 2 is our "high tech" center, equiped from JP Australia boards with NeilPryde and Severne sails, it is located on the left hand side of the Hotel Blue Horizon.
There you will find the latest windsurfing kits of the year with over 70 JP-Australia boards and around 100 NeilPryde and Severn sails. The freeride sails are mounted on SDM masts; the wave sails are mounted on RDM masts (all of 75% carbon min.).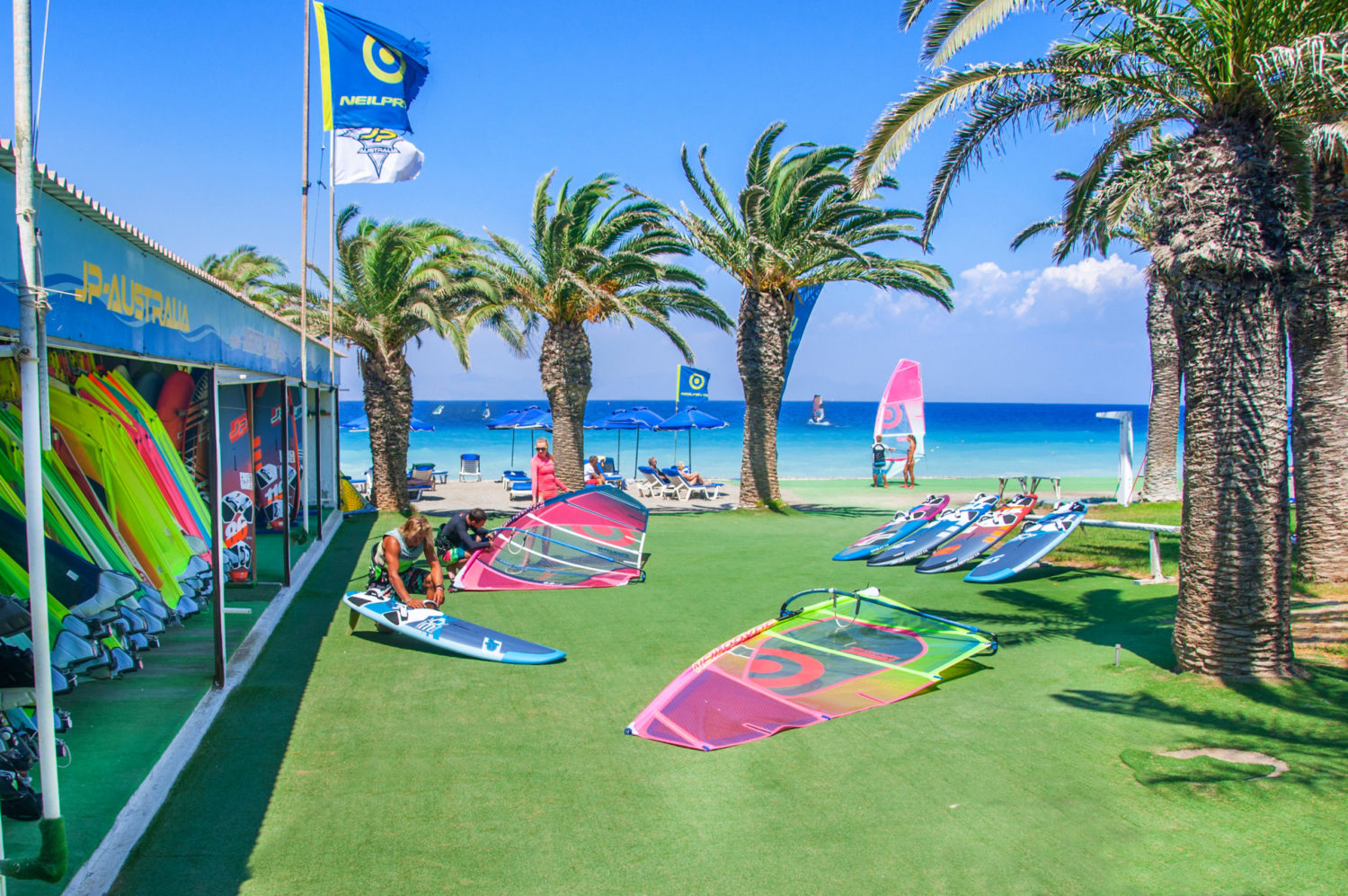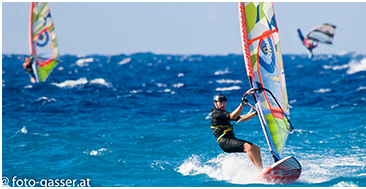 You can also reserve your premium gear: JP "pro edition".
The ProCenter 2 is situated less than 30m away from the sea, which makes accessing the water very easy.
Our professional team will hand you customize material matching the current wind condition. They will also gladly give you any information about the centre and help you to setting your gear.
Don't hesitate to ask them for help if you wish to learn a new move or simply improve your level.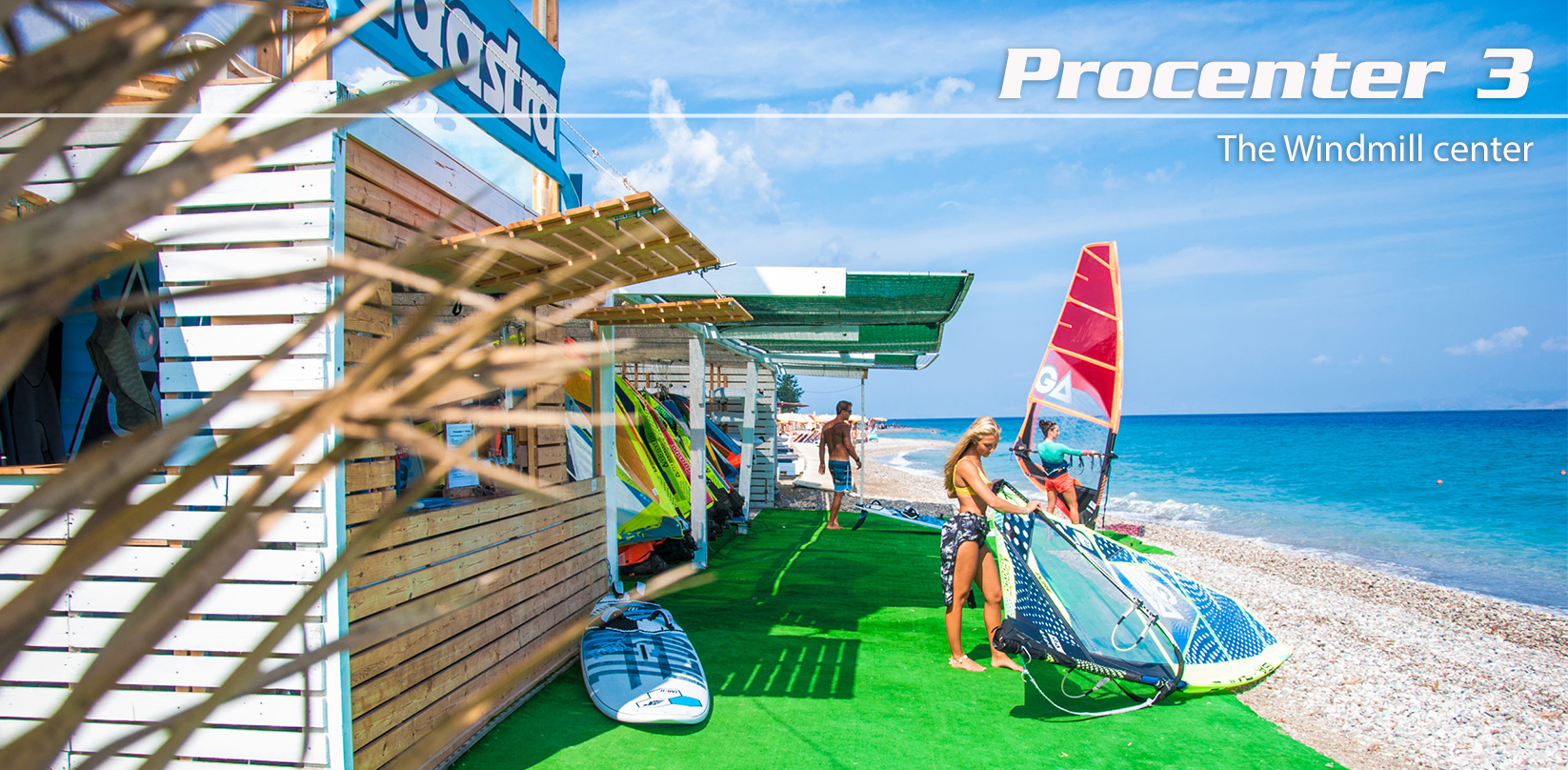 This center is more sheltered from the wind than the ProCenter 1 & 2, the Windmill Center is located within 500 meters walking distance from the Blue Horizon Hotel.
This center provides optimum learning conditions for beginners, as it lies shielded from the strong winds and the stronger waves of the bay. It is a friendly center offering many surfing opportunities for all levels.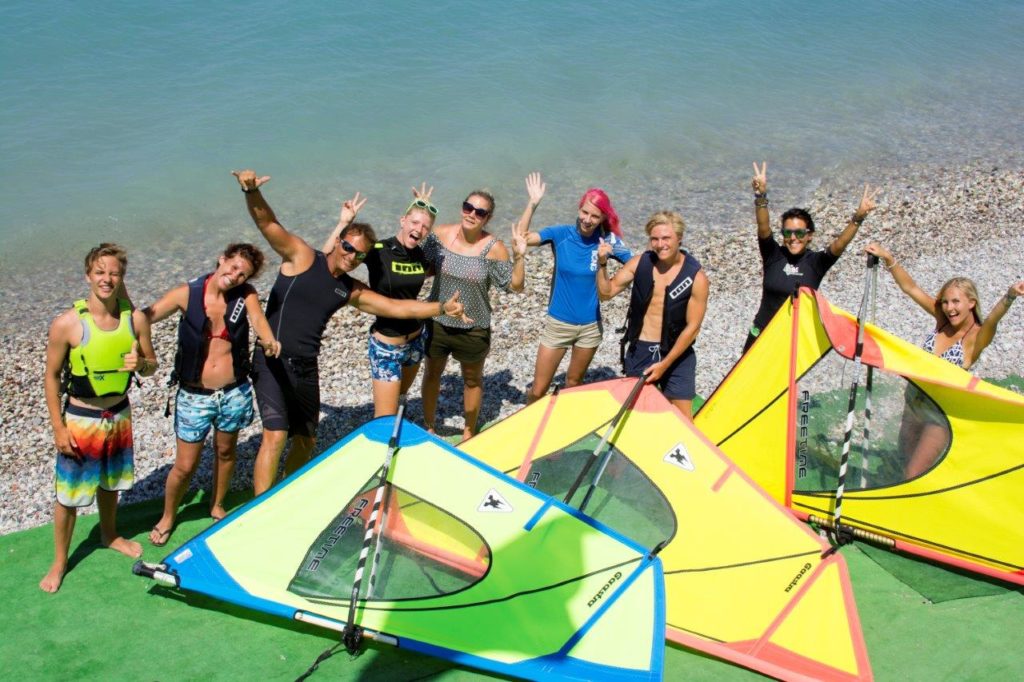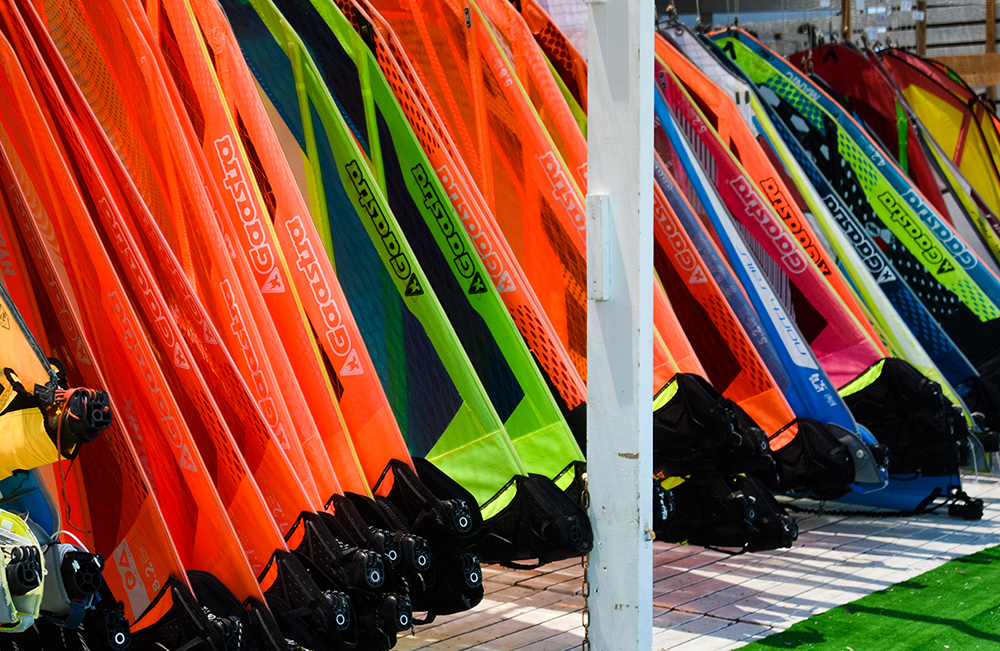 The center stores 50 boards from Tabou, you will find beginners, freeride and wave equipment accompanied with more than 70 Gaastra sails ranging between 1.0m up to 8,2m.
All Sails are rigged with over 75% carbon masts.
As the center is located right at the sea, you might change your gear as often as you like.
From the first step in our sport to the freestyler, the ProCenter can offer you all the your need,our professional team will analyze your level and give you the appropriate program needed.
We also provide windsurfing clinic during your stay which will give you the best opportunity to increase your level in a short time, the theory, the video analysis and the professional tuition can't fail!
Tryout course of 4 hours

155€

Beginners course of 8 hours

255€

Kids private course up till 13 years old of 3

x 1 hour

150€

Tryout course of 1 hours kids up till 13

years old

55€
1,5 Private hour

85€

4 Private hours

190€

 

Special at the Procenter

 

Improve your skills with our special clinic during your stay: up to 7 hours

265€
2 hours semi-private

70€

4 hours semi-private

135€

Special at the Procenter

 

Improve your skills with our special clinic
during your stay: up to 10 hours

230€

Procenter 1
Find the wide rang of Fanatic & Tabou boards with Duotone sails here. At this center you can choose between the Basic, High-Tech and Premium line.
See our list of equipment here

Procenter 2
Find the wide rang of JP boards with Neilpryde and Severn sails.
At this center you can choose between the High-Tech and Premium line.
See our list of equipment here
Jp Super ride Es 139, 124, 116, 113, 102
Jp Magic Ride Es 159, 149, 139, 129, 119, 109
Jp All Ride Fws 116
Jp Freestyle Wave Fws 104, 94, 86
Jp Super ride Lxt 146, 139, 124, 116, 113, 102, 92
Jp Magic Ride Lxt 119, 109, 99
Jp Super Sport Lxt 133, 122, 111
Jp All Ride Pro 116, 106, 96
Jp Freestyle Wave Lxt 104, 94, 84, 79
Jp Freestyle Pro 105, 101
NEILPRYDE
V8 performance cam
Speedster performance no-cam
Ryde freeride
Wizzard freestyle
Atlas power wave
Combat wave

Procenter 3
Find the wide range of Tabou boards with Gaastra sails.
At this center you can choose between the Basic and High-Tech line.
See our list of equipment here
Tabou boards
Coolrider                                   230, 190
Funster
205, 200, 170

Bullit                                             185
Rocket                                          145, 135, 125, 123+, 115, 105
3S                                                   97
Tabou boards
Rocket Ltd                                145, 135, 125, 115, 105, 103+
3S CIF                                                117, 116+, 107, 106+, 97, 86+
GA SAILS
Matrix performance no-cam
Hybrid freeride
Pilot freemouve
IQ neutral wave riding
Pure freestyle
Manic wave riding
 Foxx smaller-frame rider
Freetime schooling
See the pre-booking price here, the reservation must be at least 10 days before your arrival, the local price are about 10% more.
455€ for 2 weeks

560€ for 3 weeks
High-Tech
Team edition and LTD
530€ for 2 weeks

640€ for 3 weeks
Premium
JP Pro Edition and Tabou CIF or Team
560€ for 2 weeks

700€ for 3 weeks
Kiteboarding is the fastest growing water sport in the world – for good reasons. Kitesurfers can enjoy the freedom of jumping 10, 20, 30ft off the water – even without any waves. Back home they can still enjoy kiteboarding on a lake nearby and keep flying through the air…
Our KiteCenter is located in Kremasti, only 2 kms away from Ialyssos (free transfer available) in a lovely bay stretching along an ideally quiet beach on the west coast. There are no swimmers, and a long, clear shore-line provide perfect conditions for learning how to kitesurfing.
At the Center, you can enjoy our equipment from Duotone kiteboarding. Our professional team of is always there to assist you in launching and landing, and accompanies you on jet-bikes in the water.
 We offer Kitesurfing lessons in small groups of 4-6 people. Trained instructors introduce you to theory and practice on the beach before you train in the water.
The first stage is taught on the beach with the Helix Training kite. With the latest teaching methods you will master the body drag, water start, riding and steering the kite.
GEAR
At Rodos Kite Pro Center we pride ourselves in our state of the art equipment.
We use the latest Duotone Kites and Boards always winners in tests.
Choose your board and Kite from a huge 2020 Duotone Kiteboarding selection available in many sizes.
The Duotone Kiteboarding Trust Bars, the most progressive and effective tool to steer your Kite (5th Element or Quad Control or Wakestyle) are available at Air Riders.
Safety Rescue is available at any time.
If you bring your own equipment, we can store it for you.
Check details and suitable to you gear at:
KITEBOARDING RENTALS
1 Hour Rental (including equipment insurance) 50€
5 Hour Card (including equipment insurance) 200€
10 Hour Card (including equipment insurance) 350€
1 Day Rental (including equipment insurance) 110€
½ Day Rental (including equipment insurance) 90€
1 Week Rental Full equipment (6 days) 335€
2 Weeks Rental Full equipment (12 days) 520€
Board only (50% of full rental price)
Kite Only (70% of full rental price)
Kite Surf-Service-Package (Transfer, baywatch & rescue included)
1 Week Storage 120€
2 Weeks Storage 190€
3 Weeks Storage 240€
BEACH ACCESS (rescue included)
1 day 15€
1 week 50€
2 weeks 90€